Test & Tag Regulations
Colour Codes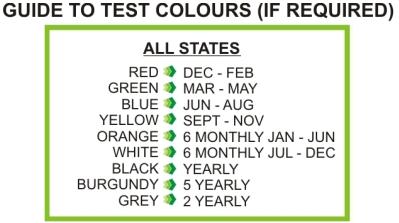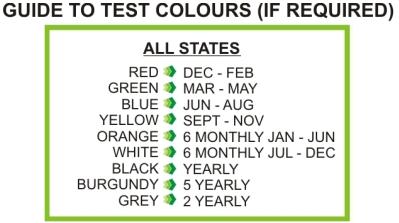 Read more information on how to use test and tag colours properly.
---
For the latest information on test and tag regulations in your state, contact the below authorities. For those interested in the colour code guide for Test Tags, we have also listed a convenient reference chart indicating test periods and relevant colours.
National

Standards Australia
Ph. 1300 65 46 46
---
Victoria

Victorian WorkCover Authority
Level 24, 222 Exhibition St
Melbourne 3000
Ph. (03) 9641 1555
---
New South Wales

WorkCover NSW
92-100 Donnison St, Gosford
Ph. 13 10 50
---
Queensland

Electrical Safety Office
Department of Industrial Relations
Level 6, Neville Bonner Building
75 William St
Brisbane QLD 4000
Ph. (07) 3237 0220
---
Western Australia

Worksafe Western Australia
5th floor 1260 Hay St
West Perth WA 6005
Ph. (08) 9327 8777
---
Australian Capital Territory

ACTPLA
Central Office
Ground Floor, North Dame Pattie Menzies House
16 Challis St, Dickson
Ph. (02) 6207 1926

ACT Workcover
Level 4 Eclipse House
197 london Circuit
Canberra City ACT 2601
Ph. (02) 6205 0200

Commonwealth OH & S regulator, Comcare
Level 1
14 Moore St
Canberra ACT 2601
Ph. 1300 366 979
---
South Australia

Office of Technical Regulator (SA)
Level 19 Wakefield House
30 Wakefield St
Adelaide SA 5000
Ph. (08) 8226 5500
---
Tasmania

Workplace Standards Tasmania
30 Gordons Hill Rd
Rosny Park TAS 7018
Ph. 1300 366 322
---
Northern Territory

NT Worksafe
Darwin Plaza Building
41 Smith Street
The Mall Darwin NT 0801
Ph. 1800 019 115
---
New Zealand

Energy Safety Services
33 Bowen St
Wellington
New Zealand
Ph. +64 4 472 0030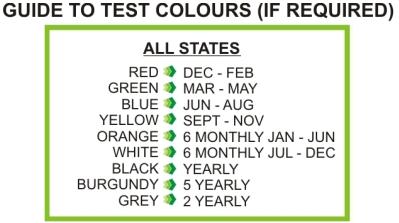 ---
Calibration
Calibrating your Portable Appliance Tester is a requirement according to Australian standards AS/NZS 3760. This is to ensure that the test results you receive are indeed accurate.
To learn more about this, see our article on Calibration.

---
Industry Peak Bodies

NECA
The National Electrical and Communications Association is the national voice of the electrotechnology contracting Industry. NECA is the only organistion that represents the interests of electrical and communications contractors Australia wide. The site has links to all state bodies & is a great resource for any individual or company involved in servicing the electrical & communications industry.

Office of the Australian Safety & Compensation Council
Now known as the ASCC, the key role of this organisation is provide leadership coordnation for national efforts to prevent workplace death & injury. The ASCC succeeds the National Occupational Health & Safety Commission.

Comcare
Comcare is responsible for Workplace Safety, Rehabilitation & Compensation.
Comcare is a statutory authority that administers two acts of Parliament:
1. The Occupational Health & Safety (Commonwealth Employment) Act 1991 &
2. The Safety, Rehabilitation and Compensation Act 1988

AEMC
The AEMC is the body responsible energy market rule making and market development at the national level.

Energy Supply Association of Australia Limited
The Energy Supply Association of Australia Limited provides energy supply businesses with an effective voice in their relationships with government, regulatory bodies, the media, community organisations and business customer representative bodies.

Lighting Council Australia
Lighting Council Australia represents Australia's lighting industry. Click here for access to Light News Information Sheets, technical information of interest to contractors.

Masters Builders Association
The Master Builders Association is an employer association to the building and construction industry.
---