Top 5 PAT Testers 2022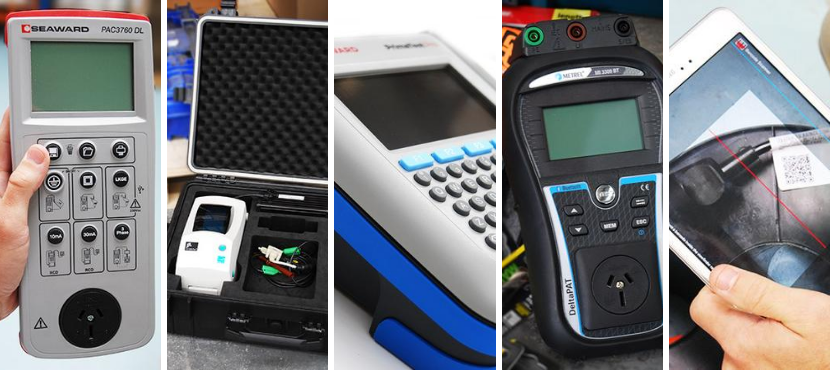 It's a question we get asked all the time - which PAT tester is the best?
It's also a really tough one to answer. There's so many different features and benefits to suit all kinds of test and taggers. So we thought we'd break down our top 5 testers and testing kits, not just based on their features, but on usability as a whole and how popular they have been this year.
These units are tried and tested by our staff, students and customers so you can be sure you're getting an expert opinion. It's certainly worth noting that this top 5 are made up solely from both Metrel and Seaward, with the notable absence of any Wavecom testers due to a lack of certain useful features.
---
Features all the models have in common:
When it comes this group of testers, there are some essentials that they all have in common, so keep these in mind when reading through our breakdown of each unit.
All units are able to perform the basics tests required by the AS/NZS 3760 Standards.
All of these units are battery powered, and some can be run on both mains or battery power
While some of these models come with tag printers, some do not, but they are all compatible with printing options
They all also have the ability to connect with PC Software to assist with data capture and reporting

---
The Seaward PAC3760 DL is one of the best testers we've used in the low end price range. Coming in at just under $1200, the PAC3760 DL performs all the basic tests required by the Australian Standards, and we love how simple it is to perform those tests. You won't need to navigate your way through menu options to complete tests with this unit. All you need to do is press one of the nine buttons on the front of the tester itself. This is an awesome feature for beginners, or those who maybe won't be testing so frequently and don't want to have to remember complicated operating instructions.
Another major reason this tester made it into our top 5 is that is has many unique features and benefits you just don't see in other testers in this price range. It's great for those who don't want to worry about having to keep batteries charged as this unit runs on 6 AA batteries, so it can be kept in a van or work truck and is ready to go when needed. It also has a built-in isolation transformer so you'll be able to test RCD's with no other equipment. You'll also be able to connect this tester with a printer too - this gives you the great option of being able to update this unit later on if you need.
Considering all the included features and the price point, its no wonder this tester is one of our go-to's for anyone looking to start testing and tagging.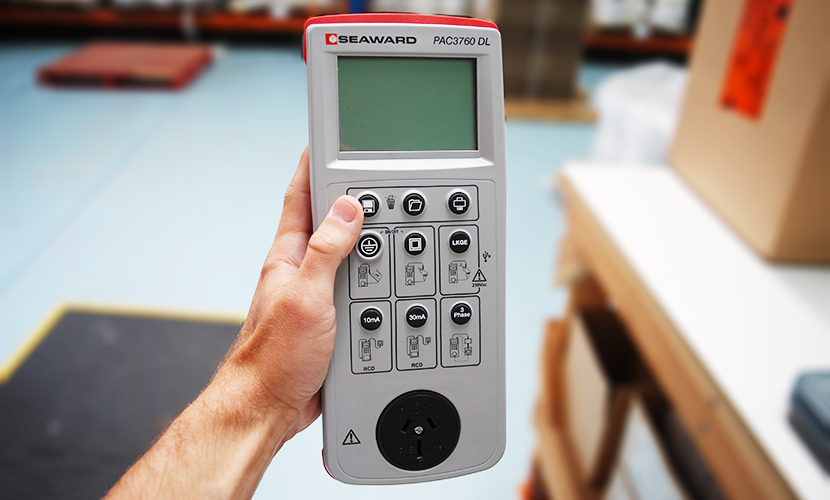 Looking closely at one of our kits now, we think the Metrel DeltaPAT Complete Kit is one of the best portable testing options for under $3000. This kit combines the ever popular DeltaPAT 3309 BT tester with a Zebra TLP 2824 Printer, so you'll be able to run tests and print your test tags on the spot. No handwriting required! All your accessories fit into the custom hard bodied carry case as well.
This printing system runs through an Android tablet. Basically, the tablet acts like a remote so you can control both the tester and the printer together via bluetooth. Using the tablet makes recoding data much easier, as you can use the onscreen keyboard compared to using just the buttons on the Delta itself. The only potential downside we see with this unit is that you will need to purchase an Android tablet separately, but for the functionality it gives you, we think it's well worth it. You will also need a bluetooth adaptor to make the printer wireless, but this is included with your kit.
Once you've completed your testing you'll be able to download your data from the tester to the PATLink PC Software. Using this software you'll be able to create detailed reports for you customers or clients, and you can even include photos of items or locations you took with the tablet. This is definitely a firm favourite with us, and it's a kit we find ourselves recommending over and over again.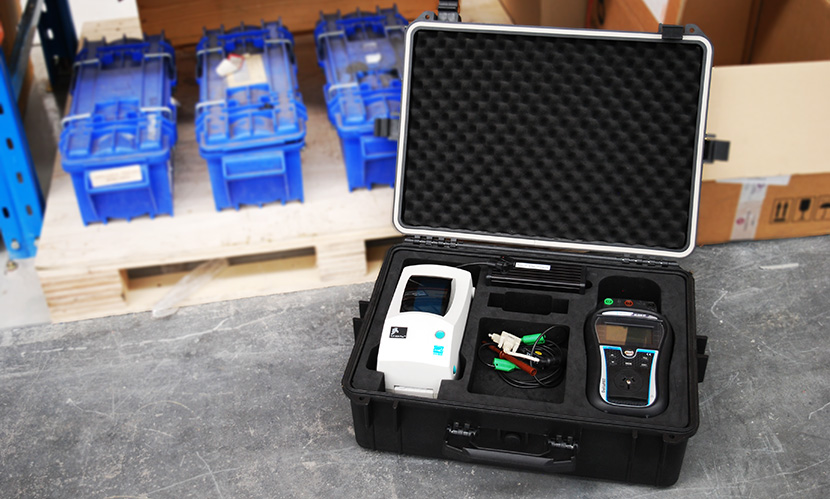 The Seaward Primetest Pro is one of the newest testers out on the market, and we think it's an awesome, easy-to-use, middle of the range package. This particular test and tag machine will set you back around $2299, but it certainly packs a lot of punch. The bright colour screen and five different functions buttons make it really easy to operate. Each of these buttons correspond to different commands, which we found to be very easy to follow and a simple procedure for running tests and adjusting settings.
One of the Primetest Pro's best selling features is the data reporting capabilities. The tester itself is able to store a huge 10,000 items in internal memory, and for each of those items you're able to record all the details of the test, plus serial and asset numbers. It's an excellent inclusion for those who need more comprehensive data logging. In conjunction with data logging on the tester, the PATGuard PC software has a lot of comprehensive reports that many other kits just don't offer - it's ideal for those who needs to supply detailed reports to customers and clients.
This unit can also be upgraded to include a printer and barcode scanner for those who will be doing a lot of testing and retesting. Similar to DeltaPAT, the Primetest Pro has so many different variables and optional extras, so it can really be customised to suit anyone - from the tradie testing items on site or an established test and tag business owner. This one also comes with an awesome customised cary backpack, which we think is great add on!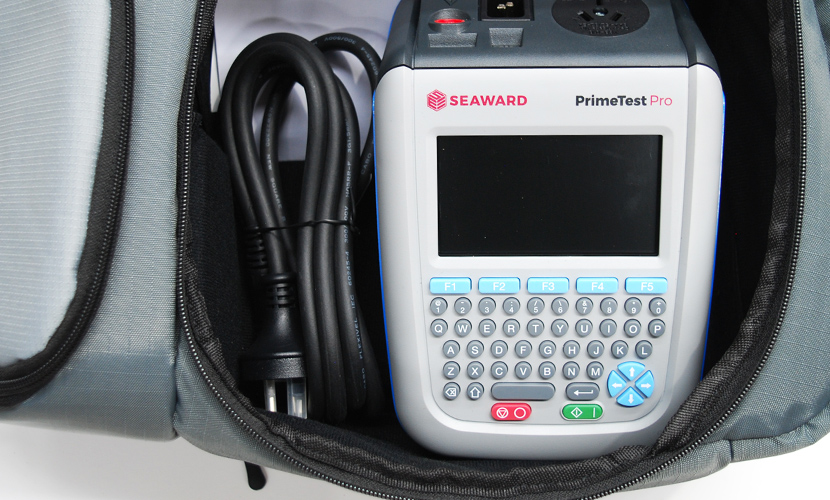 Day in and day out, the Metrel DeltaPAT 3009 BT continues to be one of our most popular and best selling testers.
Loved by us, our students and customers, the DeltaPAT is able to complete all the tests required to meet the Australian Standards, plus portable RCD testing as this model comes with an inbuilt isolation transformer. Running tests can be done by either using the 'Simple Test' option, which is basically a pre-loaded labelled description of the test you're conducting, or by using the 'Shortcut Menu', which is a list of over 70 pre-set codes to cover a variety of testing situations. Some of the other great features are the rechargeable batteries, and built in memory which will allow you to record test results to download to the computer.
The DeltaPAT is a real powerhouse, and it's easy to see why this is the tester we choose to use in our training courses. It's easy to operate but has some more advanced functions for those that need - it really caters to everyone. It is also one of the few standalone testers that can be upgraded to add on a printer and data reporting capabilities (you'll see this in the Complete and Pro Print Packs.) So as your needs change and grow, the DeltaPAT will come along with you.
If you're looking at purely just the appliance tester by itself, this unit will set you back around $1399 which is extremely well-priced in the market considering its functionality.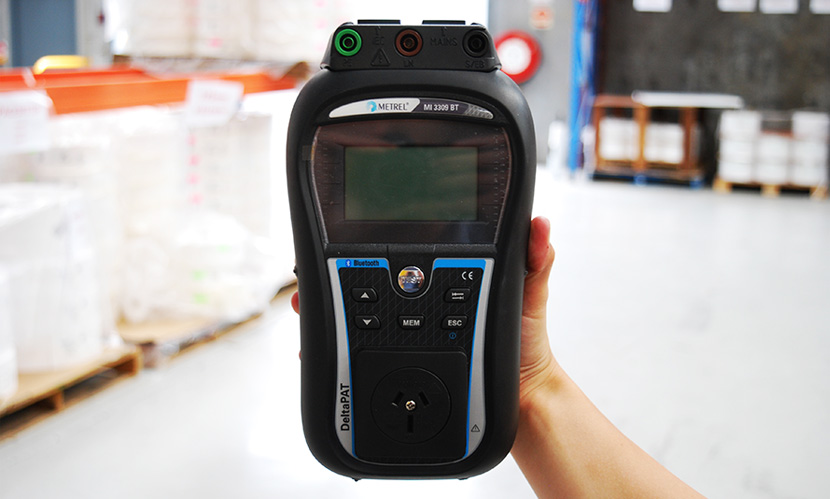 And drum rolls please, coming in at number one is the Delta Pro Print Pack! When it comes to all-in-one kits, the Metrel Delta Pro Print Pack delivers the perfect mix if you want customisable control over your PAT testing, mixed in with a streamlined process that'll make your job easier.
And that's exactley what this kit does - it makes your testing and tagging an easier process and less laborious, which is why its so highly valued.
We love this kit for those looking for a more advanced test and tag system. It's also a lot more compact and portable, which is a big plus for those moving around to many sites or testing lot's different items. There are some similarities with this kit when compared to the Complete, but there are a few major differences. Firstly, the Pro Print Pack is a completely wireless solution. The Zebra ZQ520 Printer that comes with the kit is fully Bluetooth ready - no extra dongle is required.
Secondly, this kit uses the more complex aPAT software, rather than PATLink, which allows for more comprehensive data logging. You can have multiple databases on set up to keep different clients data separate, and you can also have multiple custom logos stored. Similarly to the other Metrel units, your data downloads to the PATLink PC software for reporting and record keeping. Another handy bonus is that your data can be downloaded and emailed straight from the from the tablet. It's a great feature for those who are not always near a computer.
Overall, the Pro Print Pack is the most expensive unit on our top 5 list, but when you weigh up all the inclusions, it really does have incredible value for money. Once you get all your accessories up and running together, it seriously makes the test and tag process a breeze and you'll wonder how you ever did without it.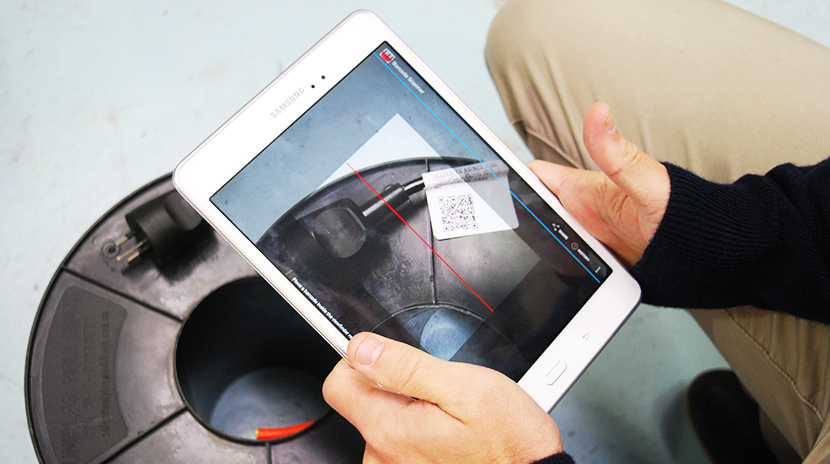 ---