Kyoritsu 6201A Review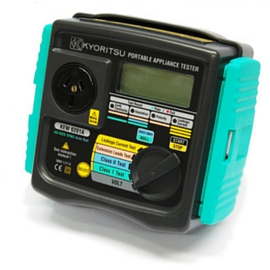 The Pros – Super-fast testing times and has auto test sequencing. Handy rotary dial for selecting your test makes it simple to function.
The Cons –Runs on mains power only, so it won't be suitable for testing remote areas. Can't be upgraded.
The Bottom Line – The highly robust 6201a appliance tester is suited for anyone after a low-end tester that conducts tests in a simple and fast manner, while not being concerned with any of the extra fancy frills or special settings on the higher-end models.
---
The 6201A is one of Kyoritsu's newer PAT tester models that falls into the 'entry-level' category, and it can certainly stand tall as one of the more reliable and easy-to-use units on the market. Its also been given a nice upgrade over its predecessor the 6201.
Features
A primary feature that appears to differentiate this model is its ability to perform tests extremely fast and efficiently. Once the type of test is chosen on a selectable dial, it'll automatically complete the test within 5 seconds; this is considered a particulary fast testing time for even a top end appliance tester.
Once your test is complete, the LED lights on the front of the tester will clearly inform you if the item passed or failed. If you're wanting exact readings and values as well, they're shown on the LCD display. It's also worth mentioning that these test readings are in fact highly accurate.
The tester is run on mains power, which is probably the 6201A's biggest drawback. This means it could be difficult to test in remote areas or anywhere that doesn't contain accessible power points.
As a whole, using the 6201A is a fairly enjoyable experience, as its lightweight design makes it easy to carry around and the robust design gives it that added protection. Unfortunately, as it's incapable of being upgraded, it's most likely not a suitable choice for test and tag service providers that want to grow their own business.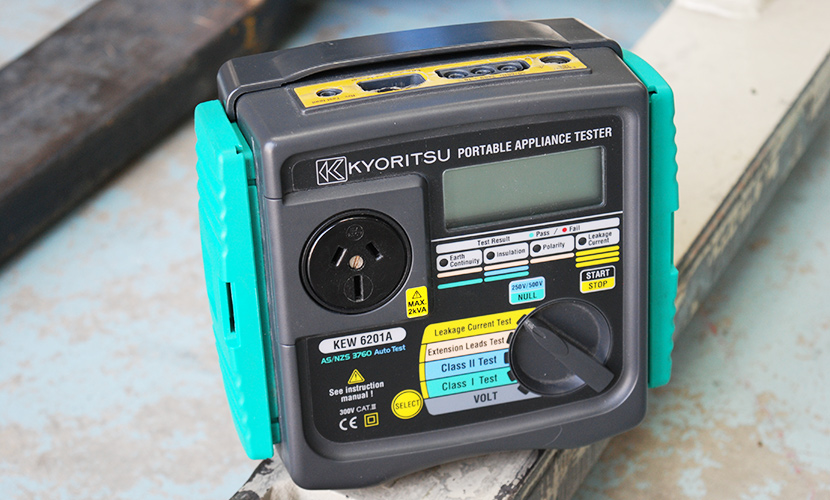 Testing Capabilities
It contains four functions in total, with the ability to test Class I, Class II, Leakage Current and Extensions Leads. On the previous 6201, Leakage Current testing wasn't available, so this is nice upgrade to have added.
Unlike other testers that require you to use a menu option to select your test, all of these testing options are chosen by simply turning the rotatory selector knob. We found this to be a very straightforward process and increased our efficiency.
Conveniently, the Insulation test is also selectable at both 250V and 500V – a great option to have when it comes to testing particular items. Likewise, it contains a 'null' function, which gives it the ability to remove the resistance of the earth return cable and will therefore generate more accurate results.
Although it performs the core tests you'll require, its inability to perform other tests (i.e. RCD and 3 Phase tests) is the primary reason it falls into the basic appliance tester classification.
Conclusion
When it comes to the entry-level appliance testers, the Kyoritsu 6201A represents reliability, quick testing times and ease of use. Indeed, if these are the specific kind of factors you're looking for in a tester at this price point, the 6201A offers a great choice.
---