Kyoritsu 6205 Review
The Pros – This unit is battery powered and can perform a wide range of tests – including testing RCD's without a transformer. It also features selectable 250V or 500V insulation testing.
The Cons – Although this unit has basic memory storage, it is not as comprehensive as other testers in the same category.
The Bottom Line – The Kyoritsu 6205s simple design, ease of use and wide range of features means this unit is a fantastic entry-level tester for it's price point.
---
Kyoritsu, the makers of the ever-popular 6201A portable appliance tester, have released a brand-new tester to the Australian market - the Kyoritsu 6205. This model will perform all the tests you need to comply with the AS/NZS 3670 standard, in addition to being fast, affordable and super easy to use.
Features
One of the major benefits of the Kyoritsu 6205 or Kew 6205 is that it is hand-held battery operated – which is a great advantage for a tester at this price point. This makes testing a workplace with many appliances in different spots a much easier task.
The bright LCD screen makes it very easy to see, even in low light areas. This unit also features a colour status backlight, which will flash Green for a Pass and Red for Fail. The testing process itself is a breeze with it's simple one button testing operation.
The 6205 also features basic data capture abilities which is a bonus. The tester has built in memory function which will store up 999 tests, a great feature for those who will only need to do low-mid volume testing.
It is also supplied with logging software included in the cost of the unit, which is a rarity at this price point. This tester is printer compatible as well if this is something you wish to add – an excellent timer saver as opposed to hand writing your tags.
Testing Capabilities
The 6205 performs all the tests you will need to conform to the industry standards at just the push of a button – making this an ideal unit for both beginners and more experienced users. It quickly performs Class I and II tests, Extension Leads and Leakage Current. It also features selectable 250V or 500V insulation testing.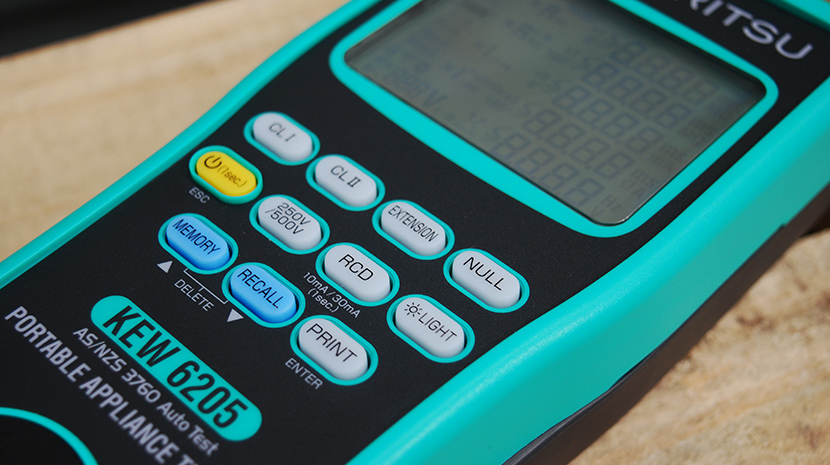 Another feature of this unit is the built-in RCD testing capabilities. The 6025 is able to test both fixed and portable RCDs with an internal isolation transformer. So there is no need to purchase extra equipment to complete your RCD testing.
Conclusion
The Kyoritsu is an excellent entry level unit with a multitude of helpful features to make your job easier. The potential to upgrade this unit with other technology, like a printer, make this tester great value for money.
---